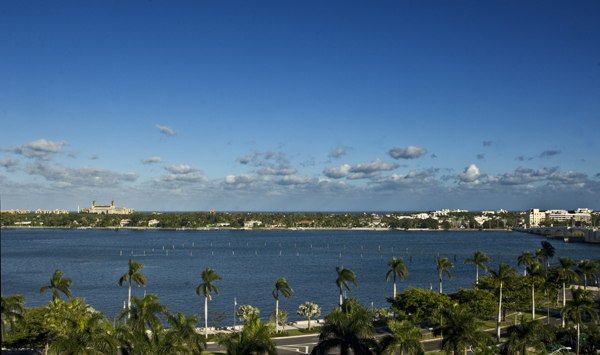 WEST PALM BEACH, Fla., Sept. 28, 2016 /PRNewswire/ — Palm Beach County continues to be a powerful magnet for companies seeking a talented workforce, high quality of life and favorable business climate, according to new figures released by the Business Development Board of Palm Beach County at its year-end luncheon.
Addressing a capacity crowd of business leaders at the Palm Beach County Convention Center, Business Development Board President & CEO Kelly Smallridge revealed that during the past 12 months the organization announced 27 relocation and expansion projects, creating 2,487 jobs and more than $100 million in capital investment. 
"Palm Beach County's favorable business climate, excellent quality of life, growing business and transportation infrastructure and skilled workforce combine to make Palm Beach County the ideal place to headquarter and expand businesses. These numbers demonstrate the success of our strategy to build the county's long term stability through diversification of industries," said Smallridge.
The manufacturing sector accounted for the most projects – nine, with 481 jobs and $40.6 million of capital investment – followed by the life sciences industry with six projects, 350 jobs, and $36.5 million in capital investment.  Four IT/Telecommunications projects represented the most jobs and square footage:  a total of 1,011 jobs and 235,800 square feet.  The business and financial sector maintained strength, with two projects and 390 jobs.  Two healthcare projects created 107 jobs, and two aerospace projects represented 88 jobs.  The distribution and marine industries were represented with one project each.
Palm Beach County Administrator Verdenia Baker spoke at the Business Development Board's Fourth Quarter Luncheon, revealing that unemployment in Palm Beach County is at a nine-year low, and that the county has AAA bond ratings from all three rating agencies.  Baker cited increasing attractiveness of Palm Beach County's business infrastructure, including more direct flights at Palm Beach International Airport (PBIA), an upgrade in PBIA's bond rating, and enhancements underway at the Port of Palm Beach. 
For the complete report please visit www.bdb.org/media-center/publications/ and download the Annual Report.
---
About the Business Development Board of Palm Beach County
The Business Development Board of Palm Beach County is the official public/private economic development organization for Palm Beach County and Enterprise Florida.  Founded in 1982 as a not-for-profit corporation, its primary purpose is to attract and retain new industry, business investment, high quality jobs and workforce development through corporate relocations, expansions and international trade. During the past five years, the BDB has assisted companies that have created more than 12,600 direct jobs with average salaries greater than$67,000, resulting in more than $693 million in capital investment to Palm Beach County and an economic impact that exceeds $5.87 billion. For more information visit  bdb.org.
---
SOURCE: Business Development Board of Palm Beach County
CONTACT: Judith Czelusniak, Judith@JudithMail.com, +1 (917) 655-3217
RELATED LINKS: http://bdb.org
Facebook Comments