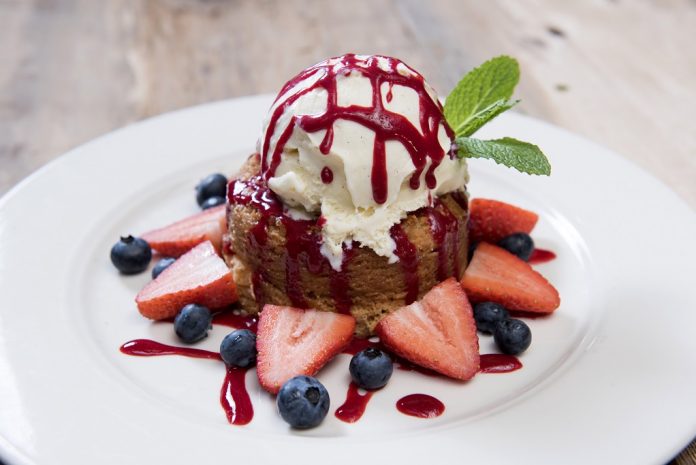 If you're expecting a typical all-American meal upon entering Village Tavern, you're certainly in for a surprise. Creative combinations come together through a shared commitment to quality and originality to form a menu collection that is meant to impress.
The goal is simple – to serve the best possible food at affordable prices. Every dish is made from scratch with only the finest, freshest ingredients. 
"We constantly improve the recipes to really make them better, better, better," shares Executive Chef Mary Grace Viado, who leads the team behind the scenes. "We try to elevate it every single time." Viado has been in the industry for 24 years and has worked in some of New York's top restaurants.
During the lunchtime hour, you'll find many options for your midday escape. Come try the amazing Tavern Burger, or the crispy chicken tacos coated in a toasted almond, cornflake crust and boosted by a chipotle mayo and mango-cilantro slaw. You can't go wrong with the Grilled Chicken Spinach Salad, topped with a blend of poppy seed dressing, Village Tavern's signature Applewood-smoked bacon, candied pecans, blue cheese, and more.
Come evening, make sure to first start your meal with one of our appetizers, including the crispy Spring Rolls; teriyaki glazed, Bacon-Wrapped Scallops; or the Maryland-Style Crab Cake. Our recommendations: The Southern Shrimp and Grits, Tavern Flatbread, or Prime Rib. Despite what you're craving, you can rest assured that you'll receive the best of the best.
Just make sure to leave room for dessert, because similar to the aforementioned creations; these are also made from scratch. The ultimate indulgence: Village Tavern's famous Warm Butter Cake, a heavenly display of moist cake fresh from the oven, accompanied by cold berries atop sweet Bassett's vanilla ice cream.
To round out the already impressive menu, Village Tavern has an even more exciting wine, beer and cocktail list. Winner of the 2016 Wine Spectator Award, the restaurant's wine list includes more than 50 wines by the glass. Guests are invited to discover their new favorite every Wednesday during Wine & Dine when all wines by the glass are offered at half-price. The options don't stop there, the restaurant's craft bar features finely prepared cocktails and a remarkable selection of locally brewed beers on tap. With that said, Village Tavern knows how to keep its customers happy by creating a menu for everyone to enjoy.
As a gathering place for regulars and business visitors alike, Village Tavern strives for upscale dining at the utmost value, which is exactly what you'll find. Gather your friends after work and take advantage of the happy hour Bites Menu for access to delicious appetizer options for just $6 each.
---
1880 North Congress Avenue
Boynton Beach, FL 33426
http://www.villagetavern.com/
Monday – Thursday 11:00 AM – 10:00 PM
Friday – Saturday 11:00 AM – 11:00 PM
Sunday 10:00 AM – 10:00 PM
Sunday Brunch 10:00 AM – 3:00 PM
Facebook Comments