As families continue to relocate to Florida from the Northeast and points west, a primary concern is finding the right school for their children. With its foundation of a culture of kindness and respect, a hands-on approach to learning, an individualized teaching philosophy, and the addition of seventh and eighth grades, more than 30 families from a dozen states have enrolled their children in Oxbridge Academy in West Palm Beach, Florida, the 2021-2022 school year.
One of the new Oxbridge ThunderWolves is freshman Koury Dowd, whose family relocated from New Jersey. While looking for a high school for Koury, a lacrosse player and the youngest of their four children, parents Jennifer and Matt Dowd heard only rave reviews about everything from Oxbridge's culture of kindness to the food. "We wanted a school that felt like family, offered (atypical) classes such as aviation and Chinese, and also had a strong lacrosse program," says Khoury's father, Matt. "Oxbridge made our move one of the best aspects of the move."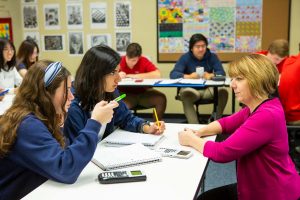 Relatively new at only a decade old, Oxbridge is an institution on the move. This year, in conjunction with entering its second decade, the school added seventh and eighth grades, enabling students to benefit earlier from its world-class curriculum and culture of kindness. The school's 10-year milestone coincided with other important factors: More families were moving into the area and there was in increased demand for private school education. The timing was right, but so was the mission.
"Adding middle school grades means preparing students at a younger age to be world citizens and future leaders who are caring, confident, compassionate, critical thinkers," explains Oxbridge Head of School Ralph Maurer. "It gives younger students from all walks of life the opportunity to benefit from a culture that nurtures and instills values such as integrity, honesty, respect, and gratitude."
Oxbridge has expanded and upgraded in other ways as well. A new, more user-friendly admissions and advancement office has been constructed. The new design and location will provide prospective families with a more streamlined process to visit and apply. A cheerleading squad, dormant for several years, is also being re-formed. Perhaps more importantly, a merit scholarship program has been instituted to ensure that exemplary, qualified students have the resources to enroll.
Businessman and philanthropist William I. Koch founded Oxbridge in 2011 with the goal of providing an excellent education to any student who wanted it no matter their financial constraints. That's why more than 40 percent of the student body benefits from financial aid. He wanted learning to occur in an environment where social class and cliques were irrelevant and the traits that really mattered were compassion and cooperation. Koch also envisioned a school that featured the best teachers and state-of-the-art learning technology and emphasized hands-on, experiential instruction over note taking and memorization.
Academically, Oxbridge can boast a faculty of which 70% have advanced degrees, including 19% with doctorates. Oxbridge is also proud of its unique, signature programs: Artificial Intelligence (AI), Aviation, Cambridge (England) Scholars, and Independent Research. The school's Model UN and debate teams and its theater students consistently bring home awards and trophies. The number of extra-curricular options grows as students are encouraged to bring to the administration new ideas for clubs. Oxbridge also emphasizes community service, which includes tutoring students, clothing and toy drives, and beach clean ups.
Oxbridge is also proud of its 22 athletic teams, which include sailing, equestrian, and girls flag football as well as basketball, volleyball, soccer, and lacrosse, among others. Over the years, many Oxbridge student-athletes have received scholarships to play for college teams, including Division I schools.
It's your turn to discover Oxbridge.
Facebook Comments