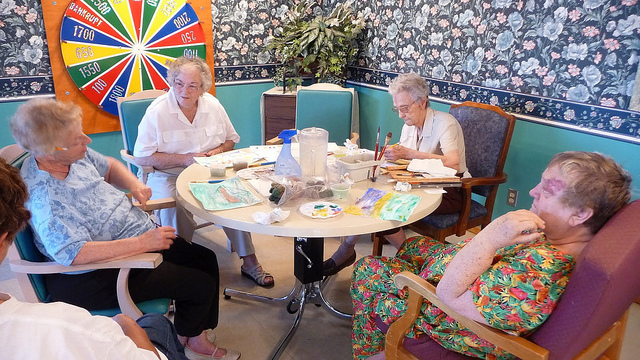 ---
Nursing Care Facilities (Skilled Nursing Facilities) – For seniors who need supervised medical attention, a skilled nursing facility provides around-the-clock care by a skilled nursing staff.  Seniors may move to a skilled nursing facility when their conditions become too complicated for them to remain in their homes or in an assisted-living facility.  Skilled nursing facilities can provide constant monitoring of a resident's condition.  Many skilled-nursing facilities also offer short-term- and long-term rehabilitation for those recovering from surgery or serious injuries. The communities/facilities listed below may offer other locations, as well as, other services and care levels – please contact them for additional information:
Abbey Delray South
1717 Homewood Blvd., Delray Beach, 33445
561-900-3132; www.lifespacecommunities.com/senior-living-delray-beach/ads/skilled-nursing
---
The professionals at Abbey Delray South believe their special brand of care starts with "thoughtful listening."  Add that to friendliness and respect, and you've got a recipe for an understanding and compassionate facility, attuned to the needs of residents and their families.
Barrington Terrace
1425 South Congress Ave.; Boynton Beach, 33426
561-369-7919; www.fivestarseniorliving.com/communities/fl/boynton-beach/barrington-terrace
---
Stressing the "home" in "nursing home" allows Barrington Terrace to create an environment that contributes to both the health and well-being of seniors.  Knowing the difficulty of the transition to a skilled-nursing facility, Barrington Terrace offers short-term stays for seniors and their families who wish to "test drive" skilled nursing.
Boca Raton Rehabilitation Center
755 Meadows Rd., Boca Raton, 33486
561-391-5200; www.bocaratonhealthandrehab.com
---
Providing care to south Palm Beach County for more than 35 years, Boca Raton Rehabilitation Center provides a caring environment for residents needing short- and long-term rehab and for those needing dedicated nursing services.  Its interdisciplinary team works to develop an individualized plan of care for each resident and patient.
The Gardens Court
3803 PGA Blvd., Palm Beach Gardens, 33410
561-626-1125; www.thegardenscourt.com
---
A full range of rehabilitation facilities and programs are just a part of what's offered at The Gardens Court.  Its location, within 10 minutes of two top-flight hospitals, helps its staff provide the best of care for short-term and long-term stays.  Therapy — physical, occupational and speech — are available seven days a week.  For long-term-care residents, special amenities such as a putting green and beauty shop add to the sense of community.   
Vi at Lakeside Village
2792 Donnelly Drive, Lantana, 33462
561-434-5396; www.lantana.viliving.com
---
Its warm and hospitable location next to Lake Osborne helps make residents feel like they're at home.  The skilled nursing staff gets to know every resident and his or her family, allowing a personalized level of care and attention to each individual's personal and medical needs.  The activity room, salon services and visitor areas add to the comfort of Vi at Lakeside Village.
The Waterford
601 Universe Blvd., Juno Beach, 33408
561-627-3800; www.lifespacecommunities.com/senior-living-juno-beach/skilled-nursing
---
Physicians on-site provide personalized care in areas ranging from internal medicine and gerontology to neurology, optometry and podiatry.  In its beautiful setting in northern Palm Beach County, The Waterford offers residents amenities such as a game room, art studio and events and activities.
Facebook Comments