The Sunrise Theatre in historic Downtown Fort Pierce is the brightest gem in the cultural crown of the Treasure Coast.
Originally opened in August of 1923, the Sunrise Theatre has been exquisitely restored state-of-the-art theatre which reopened in January 2006.  Over the past 12 years, the Sunrise has served the region a varied and diverse schedule of programs from national touring Broadway shows, musical and comedy acts, ballet, opera companies with full orchestras, country stars and classic rock icons.  More than half of our ticket buyers are coming from Martin, Palm Beach, Indian River and Brevard counties with an ever-increasing number of patrons coming from counties and states beyond. 
In addition to the main stage, the smaller flex-space Black Box is home to the weekly Fort Pierce Jazz and Blues Society's Jazz Jams and The Comedy Corner bringing top-touring comedians every other Saturday night. Some of our decade of growth can be attributed to the increasing profile of this intimate 1,221-seat theatre through our marketing efforts and the increasing number of high-profile artists and attractions appearing on our stage with the likes of Ringo Starr, Jay Leno, Michael Bolton, Trace Adkins, Oliva Newton-John and others along with this year's confirmed returning favorites such as Paul Anka, Dave Koz, Garrison Keillor, Johnny Mathis, The Midtown Men, Art Garfunkel and others.  Just like our expanding audiences and reach, our schedule continues to expand as well by the additions of many concerts, attractions and events throughout the season.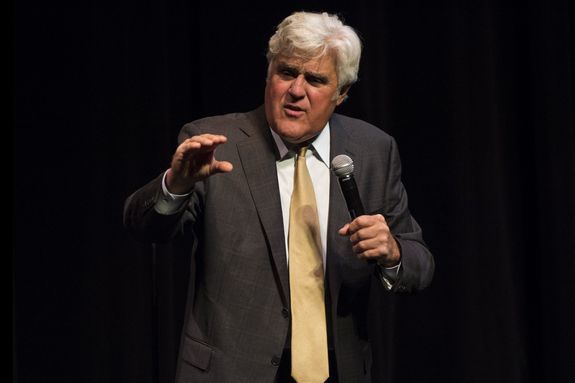 Jay Leno – Credit: Sunrise Theatre
As a member supported, volunteer-assisted organization, with over 1,250 members and 200+ volunteers, the Sunrise Theatre serves over 85,000 patrons and guests annually through its programs and directly benefits the economic impact and quality of life in St. Lucie County by attracting visitors from other cities, counties and states.
Your tax-deductible membership contribution makes you eligible for a variety of benefits and gets you the "best seats in the house." Individual memberships begin at $75 and offer advanced notice of shows and the opportunity to purchase tickets in advance of the general public.
Sunrise Theatre – Fort Pierce, Florida
Facebook Comments