`
With locations in both Boynton Beach and Palm Beach Gardens, the Mandel JCC provides quality Jewish programming for all ages. The buildings are home to state-of-the-art fitness centers, sports leagues, dozens of group fitness classes for all abilities, outdoor aquatic centers, and afterschool programs. In addition, the JCC hosts an array of adult, children, and family programming including the following:
Camp Shalom is the premier summer camp of Palm Beach County. Over 50 years old, Camp Shalom provides a traditional camp experience for grades K-10 as well as a teen travel program and half a dozen specialty camps including sports and circus. While always providing high quality fun, Camp Shalom is also committed to offering a safe, warm and nurturing environment where campers participate in their favorite activities, try new things, and develop great life-long friendships.
At the Glantz and Kay Early Childhood Learning Centers in Boynton Beach and Palm Beach Gardens respectively, children are encouraged to develop as individuals as well as members of the Jewish community. Children in these programs are given critical opportunities to develop life skills, such as focus and self-control, communication and critical thinking. Both part time and full time options are available for infant to Pre-K.
The Mandel JCC Annual Book Festival will offer almost two dozen author events this season including its signature book luncheon and shopping boutique at the Kravis Center on Wednesday, November 16th with Jane L. Rosen, award-winning author of Nine Women, One Dress. For years this festival has celebrated the written word and this year is expected to be the best yet.
The Donald M. Ephraim Palm Beach Jewish Film Festival, now in its 27th year, strives to bring the finest examples of cinema from around the world to South Florida. Some films focus on Jewish issues, while others spotlight Jewish achievement and valor, or simply document Jewish culture, arts, and history. All films at the festival celebrate the Jewish experience and the diversity of the community. This year's festival will run from January 19- February 12, 2017 and tickets will go on sale in mid-December.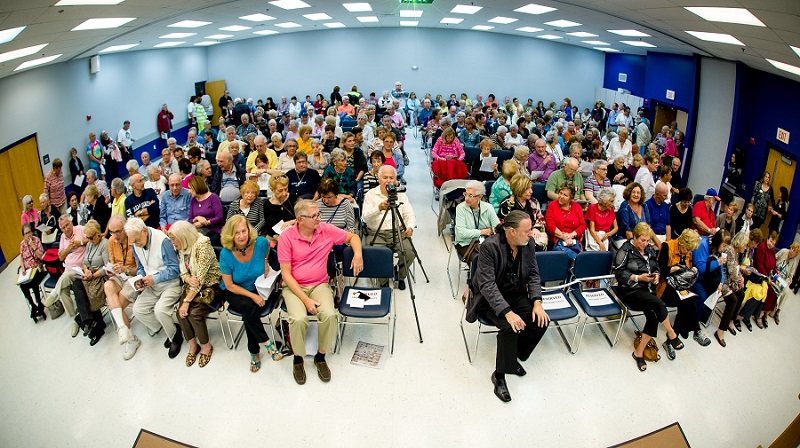 The Mandel JCC Adult Lifelong Learning Centers are located in both locations and class topics range from arts to politics. Dedicated to offering intellectually enriching educational experiences, the JCC has hosted a variety of experts such as Dr. Robert Watson, Richard Rene' Silvin, representatives from Nova Southeastern University, representatives from Scripps Research, radio talk show hosts, comedians, authors, and so many others. With hundreds of classes offered, the JCC's lifelong learning center is a cultural and educational hub in Palm Beach County. Fall classes begin this October.
And finally, our Chanukah Candle Lightings are two of our most celebrated events throughout the year. Together with our other Jewish agency partners, we provide music, crafts, food, and fun while we celebrate the lighting of the menorah.
All photos courtesy of VMA Studio and Mandel JCC
---
For more information on events, programs, and classes throughout the year go to JCConline.com. For questions at our Boynton Beach location, please call 561-740-9000. For questions at our Palm Beach Gardens location, please call 561-712-5200. We look forward to seeing you at the J!
Facebook Comments