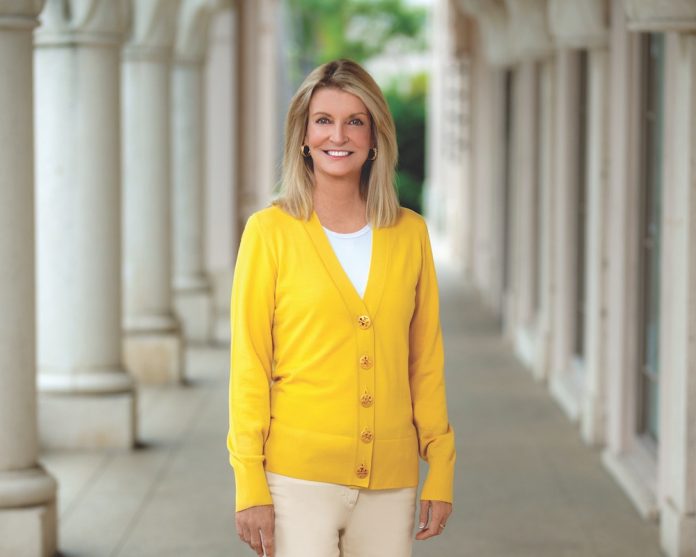 From Palm Beach to Jupiter Island, Jennifer Hyland's knowledge of the luxury real estate market is legendary.  A trusted advisor to buyers and sellers, as well as some of the area's top home builders, Hyland has been featured in the Wall Street Journal, Financial Times, and most recently The Real Deal for closing the record highest per-square-foot sale in Palm Beach Gardens' history.  A natural people person and listener, Hyland has a unique ability for prioritizing her clients' needs and charting a path for their success.
Jennifer Hyland grew up in Stamford, Conn., and is an alumnus of Fairfield University, where she studied journalism.  This led her to New York, where she first interned at Vogue magazine.
She achieved success in leadership roles in several organizations in New York, including Time Incorporated and Slim Fast Foods, both Fortune 100 Companies at the time.  She also worked with acclaimed architect Helmut Jahn, assisting with the opening his Madison Avenue office that included clients such as IBM, the Cohen brothers, and the Trump Organization. During her corporate career, Hyland traveled extensively throughout the U.S. and internationally. She credits her diverse and colorful background for giving her a depth of understanding of life in both the Palm Beaches and beyond.
A 30-year resident of the Palm Beaches and 20-plus year Realtor, Hyland's Florida roots trace back to the early 1980's when her family purchased a North Palm Beach home. She has experienced the vast growth from the days when Palm Beach International Airport was just a small, outdoor stopover.
Hyland raised her family in North Palm Beach, an idyllic village where golf and water sports are part of daily life.  She was a proud "golf mom" whose son traveled on the junior tour circuit.  Her history in the Palm Beaches allows her to share her insider insight into the best schools and sports programs¾a welcome benefit for her clients.
She is actively involved in several local charities including Peggy Adams Animal Rescue, Meals on Wheels, STOP! Children's Cancer of Palm Beach County, and Hospice of Palm Beach County.  She is a member of the Master Brokers Forum, Women's Council of Realtors, Toll Brothers Advisory Board, and the Forum Club of the Palm Beaches.
If you'd like to learn more about the Palm Beaches and all it has to offer (from its 160 golf courses to miles of ocean and Intracoastal properties), call Jennifer Hyland to begin your journey.
400 Royal Palm Way, #110 | Palm Beach |561-632-4042
corcoran.com | jennifer.hyland@corcoran.com
Facebook Comments