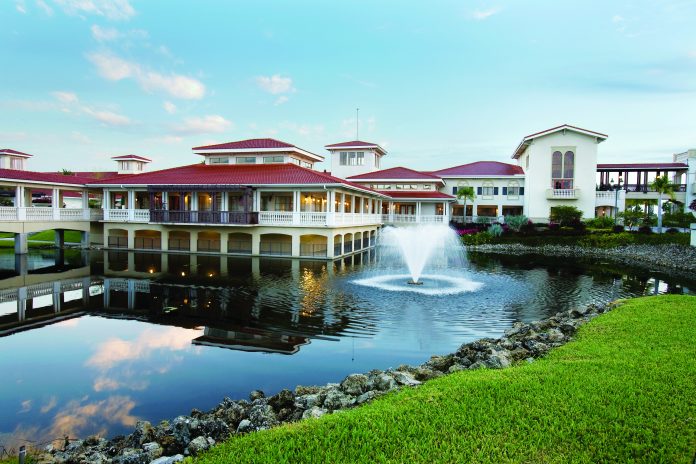 When Heather Liddle first walked through the doors at La Posada Senior Living, a
Kisco senior living community in Palm Beach Gardens located 20 minutes from Jupiter, she sensed authenticity. It's this feeling of welcome Liddle continues to enjoy eight years later.
"From the moment my husband Michael and I walked in the door, we knew we were in the right place," says Liddle. "Following the start of the pandemic, the team here jumped into action immediately and has done an amazing job to ensure our safety. Every effort you could imagine has been made. Nothing is too much trouble and there is a sense of togetherness to get through the pandemic challenges," she says. "We know that we will be taken care of, and we are willing to do our part in making the community safe."
Whether it is dining options or wellness activities, the staff goes out of their way to make it safe and engaging, Liddle says. The dedication to service is more pronounced than ever, and it makes her grateful she made the decision to call La Posada home. The little details make it easy to live through the pandemic, and it is this worry-free lifestyle that makes all the difference and provides peace of mind for Liddle and many others.
"While the pandemic changed many things,the quality of life that our residents experience was never compromised," says Brad Cadiere, executive director at La Posada. "Out of the pandemic, we found the most essential thing was for us to find ways to support our residents and bring them together. We did that in ways not only new and innovative, but that continued the independence and level of engagement they were used to."
La Posada continues to adapt as needs change related to the pandemic, but
one thing that will never waver is the community's commitment to its people. The community is committed to maintaining the philosophy behind Kisco ConfidenceTM, a mission centered on providing safety and security, health and well-being, and quality services to foster the most vibrant and fulfilling lifestyle for residents.
"We've said before that our residents are our most valuable assets, and it's a statement that will continue to ring true," says Cadiere. "Residents are the very heart of what we
do, and we will continue to do all we can to provide superior service and address their needs." Now is the time to consider the safe and vibrant environment La Posada offers, including four different residential options, 18 floor plans, and flexible pricing plans.
LA POSADA DELIVERS: TOP 10 SAFETY MEASURES
• Secure, gated community in heart of Palm Beach Gardens, conveniently located only 20 minutes from Jupiter
• Kisco Clean program guided by CDC protocols for safe move-in
• Located in a non-evacuation zone for hurricanes with two backup generators on-site
• Setting the standards in monitoring residents' health through advanced technology and Accushield check-in system for visitor management
• Technology infrastructure to maintain connection to family, friends, and doctors
• Award-winning, five-star lifestyle guided by Forbes Travel Guide standards
• Following all social distance protocols for customized health and wellness programs
• Two five-star chefs focused on nutritional assurance
• Grocery, pharmacy, and meal deliveries and valet service
• Award-winning health care center
Schedule your Peace of Mind tour or personal FaceTime tour to see all 18 floor plans and learn about flexible pricing options to experience La Posada for yourself!
Facebook Comments